---
Carlos Nino in London, UK
Latinos in London Magazine on 2016-08-12
---
Eliane Correa & en el aire project : Rumba con Flores
Latin pianist Eliane Correa joins the dots between Afro Cuban jazz and neo soul for her breakout record
Eliane Correa is a Latin pianist, composer and bandleader who is set to release her debut album 'Rumba con Flores' on February 12 through the Movimientos record label. Hailing from planet earth via Havana, Buenos Aries, Barcelona and London, Eliane will touchdown at London's Jazz Café On January 31 bringing to the fore her scorching 10-piece band.
Rumba Con Flores was part recorded in Havana, Cuba and London where over thirty musicians were invited to bring to flower the compositions written, in their entirety, by Eliane. The album expresses Eliane's deep devotion to jazz and the Afro Cuban tradition and her love of contemporary neo-soul, R&B and urban Latino music. 27-year-old Eliane explains, "the way traditional Cuban jazz and Latin jazz have been shaped - we're trying to break that mould and go somewhere new."
This was made possible by using a sterling cast of musicians and the growth in the Cuban scene in London over recent years. Players on the record include Graeme Flowers (Kylie Minogue, Moloko, Imelda May), drummers Ernesto Simpson (Richard Bona, Herbie Hancock, Gonzalo Rubalcaba) and Michel Castellanos, saxophonist Roberto Manzin (Laura Mvula, Alejandro Sanz), Afro-Cuban folklore ensemble Osaín del Monte and some of Cuba's top young batá drum players.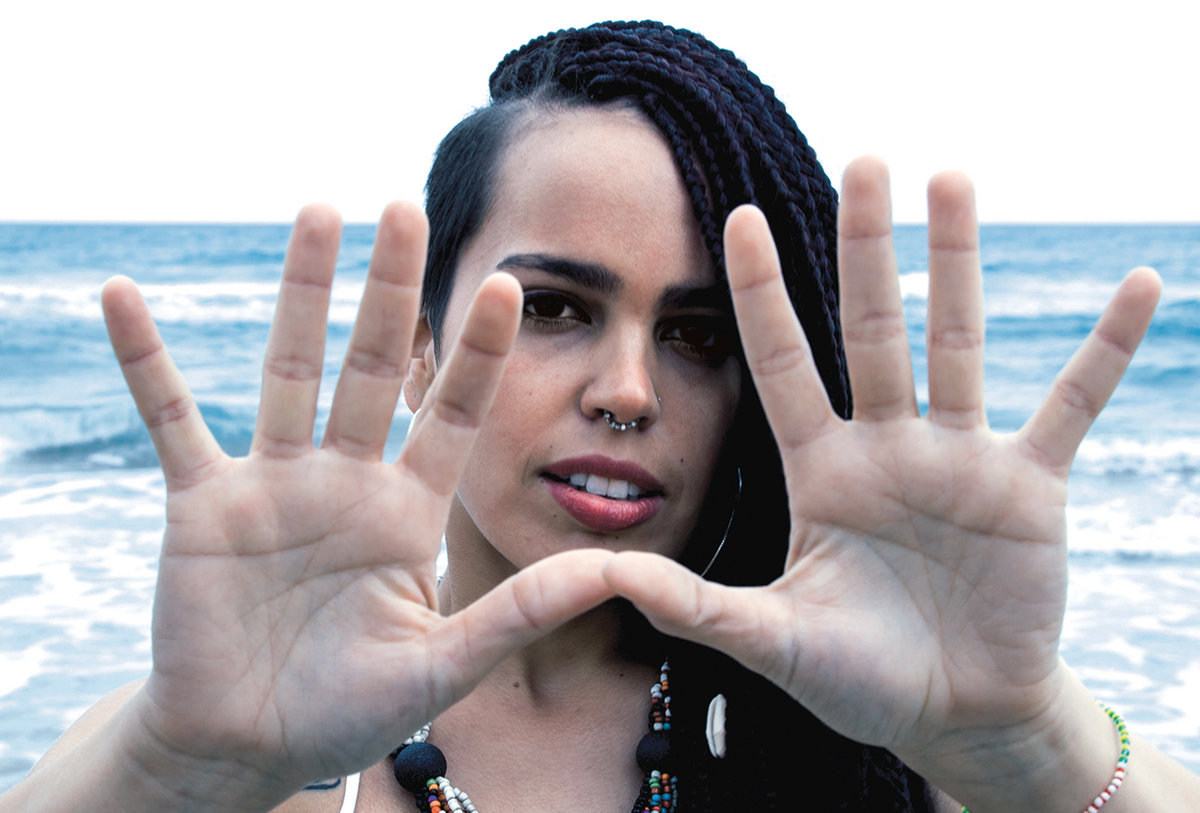 Rumba Con Flores is as much a poised slice of soulful and jazzy musicianship as it is a storytelling device that trails Eliane's much travelled path from her early immigrant childhood in Luxembourg to her time living in Cuba. Eliane's gift of music was first wrapped up and presented to her at the tender age of three. The first forays on an old battered piano followed a fascination in the mysterious and majestic jazz sounds of Nina Simone, Ella Fitzgerald and Duke Ellington that swept through her parents Luxembourg home. As her love for the piano developed into her teens, Eliane went on to complete her training at the Luxembourg Conservatoire.
Eliane's mother and father, from Argentina and Cuba via Spain, provided unsuspecting musical guidance but there was to be a moment of eclipsing significance later in Eliane's childhood during her quest to connect with her Cuban ancestry. When she was 17 years old she left Europe for Havana, Cuba to continue her music study. A dream came to light but that was quickly darkened after she found out she had tendinitis in her hand hindering her ability to play the piano. Undeterred she immersed herself in music, hanging out in jazz clubs like La Zorra y el Cuervo mixing with local jazz, son and rumba musicians all the time steering her musical vessel. During this period she worked as a tour guide up and down the Malecón coast downtown Havana and in the midst of keeping her head above water she was invited to a spiritual drumming ceremony. The Afro Cuban batá drum and deities from the Lucumí ("Santería") devotion changed Eliane's life and musical perspective.
Fittingly, the album launches through a barrage of batá drums and the calmness of a Yoruba prayer recited by Cuban rumba figure Gerardo de Armas. The tone quickly turns to the soul and the funk prised through by the party spirit of vocalist Manuela Panizzo. Guest vocalists (and musicians) feature throughout with the female voice owning the microphone with contributions from Cuban trova vocalist Yanaysa Prieto most notably on the album's title track 'Rumba Con Flores'. British Congolese singer Binisa Bonner plays partner to Yanaysa on this and the lead single 'Aftertaste, a beautifully and sultry number.
Eliane has carved out her career in London in recent years, most notably as writer and performer in global urban music collective WARA, Eliane's multifarious identity as an artist is striking in the natural way she breathes so many diverse forms of music.
www.movimientos.org.uk
www.facebook.com/elianecorreaenelaire/
soundcloud.com/elianecorreamusic
"A brave work that redefines some of the innovations currently happening in Cuban music… an album that surprises, delights and grooves." Jazzwise review
"It's a beautiful album" Chris Philips (Head of Music, Jazz FM)
No Comments have yet been Added